Houston Rockets: It's time for James Harden to move past the MVP snub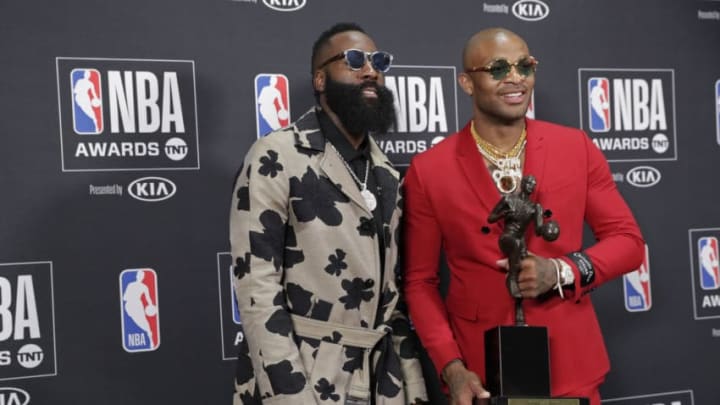 James Harden #13 of the Houston Rockets poses for a photo with PJ Tucker #4 of the Houston Rockets (Photo by Will Navarro/NBAE via Getty Images) /
Houston Rockets' superstar James Harden has been talking about the MVP outcome for the entire off-season. It's time for him to put an end to this discussion and move forward.
As we all know by now, Houston Rockets star James Harden should have won the MVP Award this past season but Giannis Antetokounmpo of the Milwaukee Bucks took home the trophy instead. When I say we all know, I'm fairly sure WE ALL KNOW.
But even if anyone didn't know, James Harden is making sure to let everyone know.
Harden previously had an interview with 97.9 The Box in which he voiced his displeasure earlier in the summer, but Harden also did a more recent interview with GQ's Alex Shultz in which he had the below to say.
"But they [the media] for sure got some teams they locked in on. We all know. That's just what it is. You can't tell me that a guy whose team was a 14-seed at one point last year, and ended up a four-seed with everything that was going on—so many injuries—and who went on a 32-game 30-point streak, eight 50-point games, two 60-point games in one season…and all the talk was about [Giannis Antetokounmpo]? There's no way."
It may be unpopular for me to say, but it's beyond time for Harden to move on past this subject. I'll start by saying I'm in agreement with him in that he should have won the award without question. The overall impact he had on the Rockets was much greater than the impact Giannis had on the Bucks, because Milwaukee had a much better supporting cast. Not to mention the fact that the Rockets went winless in games which Harden didn't score 20 points, whereas Milwaukee went 10-2 in games when Giannis didn't crack 20. In addition, there was only a seven win differential between the Bucks and the Rockets, despite the fact that the Rockets play in the much tougher Western Conference.
But despite me agreeing with James (as I'm sure most people do), nothing can be done at this point to change the selection. I'm sure there are those who think I'm coming on a bit harsh who have the take of "well he was just answering a question." Well there are two things to consider with this argument.
For one, he's getting asked this question by anyone who talks to him because of how vocal he's been about being unhappy. Due to the fact that he's been so vocal about being unhappy, he's going to continue to draw more questions about this subject, because every outlet wants to have Harden complaining "on wax" for them.
Part of Harden's frustration is the fact that he's been passed over year after year, which I previously detailed. But I would rather Harden use that fuel as motivation to prove to the media how they were wrong.
What would be better at this point is for Harden to have an answer such as "I can't control how the voters vote, but I'm past that and ready for the season to start." To be clear, Harden said something similar to this in his GQ interview:
"I just had to look at what I could do to get better for next year. You can't pout or be mad, and the kid had an unbelievable season, so did his team. But the things I was putting up were legendary. You going to look back in 10, 15 years from now and be like, is that really true? Did that really happen? That's some stuff they were doing back when Kareem and all those other guys were playing. But I'm happy. We have a team goal of winning a championship, and I'm ready to get going now."
This is where Harden is giving off conflicting messages, as he's talking about how he's moved on and has accepted that he came to grips with the fact that he couldn't control the outcome. But if he's truly come to grips with it, why is he still talking about it?
Again, this is not to say Harden wasn't snubbed, however it's time to move on past the topic and get ready for the season. For all he knows, he could very well win the MVP this coming season, or better yet a Finals MVP if the Houston Rockets win the title.