Rockets vs. Hawks preview, betting odds, injury report, game time, TV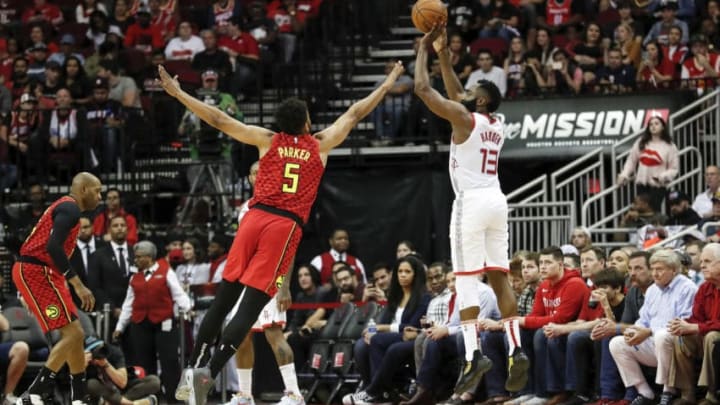 Houston Rockets James Harden (Photo by Tim Warner/Getty Images) /
The Houston Rockets will look to cruise past a struggling Atlanta Hawks team as they visit Trae Young and company on Wednesday evening.
To say the last meeting between the Houston Rockets and Atlanta Hawks was one-sided would be an understatement. From a Rocket's perspective, the game went as perfectly as you would hope for. From a Hawks' perspective, it was as ugly as it could get.
On November 30th at the Toyota Center, Houston outscored Atlanta by 17, 12 and 15 in the first three quarters, ultimately winning by a ridiculous score of 158-111. In the game, James Harden scored a season-high (and nearly career-high) 60 points on 16-24 shooting and 8-for-14 from long-range. Ben McLemore and Chris Clemons added six and four 3-pointers themselves, as the Rockets nailed 25-of-51 as a team.
https://twitter.com/NBA/status/1201002986647908352?s=20
Now with the season series shifting to State Farm Arena in Atlanta, the odds are that the Hawks will show a much better effort, led by Trae Young and John Collins. Although they've only recorded eight wins, they recently defeated an Indiana Pacers team that's in the thick of the playoff hunt and hung with the Denver Nuggets until the final frame.
Russell Westbrook will be sitting out this time around, but there's no reason this game should even be close if the Rockets show up to play. Of course, there's a reason the games are played, so nothing is a given.
Here's everything you need to know about the matchup:
Time, streaming options, ticketing
Houston Rockets @ Atlanta Hawks – Wednesday, Jan. 9 @ 7:30 pm ETState Farm Arena – Atlanta, GATV: ATTSN-SW (Houston), FSSE (Atlanta)Radio: 790 KBME and 740 KTRH/850 KEYH and 101.7 F (HOU), WZGC 92.9 FM The Game (ATL)Online streaming: fuboTV, NBA League PassTickets: StubHub
Betting Odds
Injury Report
Houston RocketsOUT: Russell Westbrook (rest)
Atlanta Hawks OUT: Jabari Parker (shoulder), Bruno Fernando (personal reasons)
*Both reports via Rotoworld
*Injuries will be updated here if any more are reported.