Houston Rockets Daily Rocket Science: Ankles and Intentions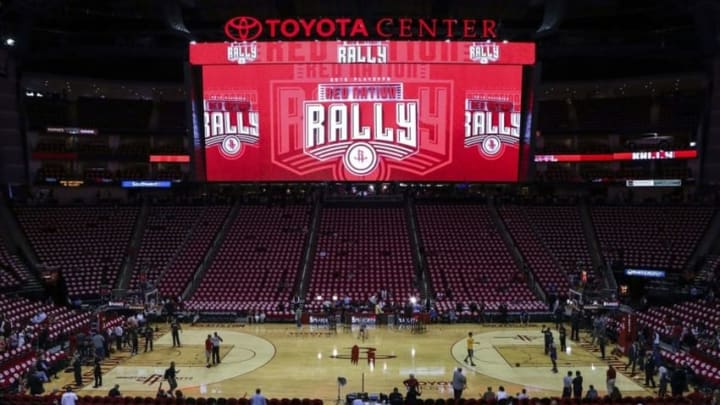 Apr 21, 2016; Houston, TX, USA; General view inside Toyota Center before game three of the first round of the NBA Playoffs between the Houston Rockets and the Golden State Warriors. Mandatory Credit: Troy Taormina-USA TODAY Sports /
Houston Rockets get an extra day off to prepare for Game 4 of their round 1 series versus Golden State. That's great for the players to rest their weary bodies, but it also means Stephen Curry will get an extra 24 hours to rest his injured ankle.
Not surprisingly, news surrounding the series has been primarily focused on the likely 2-time MVP as Curry and his Warriors also prepare for another battle versus the Houston Rockets on Sunday with the tip at 3:30. A win would even the series and a loss would likely give rekindle Golden States confidence as they head back to Oracle for Game 5.
The question is can the Rockets do something that has evaded them all season and put together back to back solid games or will they showcase a gritty effort with a lack luster follow-up. Either way, it was great the Rockets took a game at home showcasing their pride and giving Clutch City fans a victory. One thing that can't be denied about this season is the fan base at large loves their Rockets, so that win meant a lot to the hordes of people who are invested in their team.
With that, let's dive in to see the news and notes in the National and social media surrounding the Rockets:
Curry confirmed it's the lower ankle that was injured and following a 3 on 3 practice feels he is good to go. If you ask Curry he's going to play and if you ask Steve Kerr, he might not be so sure. Adi Joseph of Sporting News opines the Warriors should err on the side of caution given the Clippers and Chris Paul will be the Warriors likely next opponent assuming they win their first round series:
"The Clippers have bad blood with everyone. Paul is the heel of all heels. If Beverley is the scrappy role player who gets on Curry's nerves, Paul is the scrappy superstar with the skills to push Curry to the limit on both ends. The last time the Warriors lost a playoff series, Paul was the villain. He flopped and pushed and ground the Clippers to a seven-game series victory in 2014's first round."
Fran Blinebury of nba.com reports Curry is likely to play Sunday:
"" " When asked if he'd be surprised to be held out of action again on Sunday, the reigning MVP replied: "Very." – – Curry declared his sprained right ankle on the mend after going through 3-on-3 competition with teammates and working on shooting drills on the main floor at Toyota Center Friday afternoon."
Another off the beaten track Warriors news bit was the focus of the team photo shoot which featured the players in their 'typical' fashion. The Starters did a bit on it Friday's show:
The Warriors had a fashion shoot. Photoshop made it better. (pic: @JoePo89) https://t.co/CZG7VRycGE pic.twitter.com/sizJ2hUeiz
— The Comeback (@thecomeback) April 22, 2016
The Starters also gave their Top 10 of the week which included the great Dwight Howard block on Festus Ezeli
Dwight Howard makes #TheStarters top 10 of the week: https://t.co/NjR7U9RAHr via @NBA
— Space City Scoop (@SpaceCity_Scoop) April 23, 2016
On the Howard front, even ex coach Kevin McHale isn't holding back as John Chick of The Score reported in a follow-up to McHale's appearance on NBA Sirius Radio:
"" ." If you throw it down to him (in the post) on a steady diet the poor guy just can't get down low and move any more," McHale told SiriusXM NBA Radio, according to . "I think that back bothered him, his hips are tight from that and he just wasn't the same player Kurt Helin of PBT"
McHale continues adding his decline is less to do with Howard's preparation and more to do with his recent injuries:
"" " He's worked hard on it," said McHale, who was fired in November amid reports of discontent in the Houston locker room during a disappointing season. "The kid does work hard on his physical conditioning and trying to get healthy and stuff. But he is not what he used to be down there in the low post. And I think the knee surgery, too."
While many jumped all over the reaction (or lack there of) of the Rockets bench to Harden's game winning shot Joseph Casciaro also of The Score offers an interesting quote from Howard regarding the Rockets intentions in the series:
So, the Rockets remain committed to winning or at least that's the party line.  For Red Nation it's encouraging to hear this talented team still believes they have the goods and more importantly the desire to win this series. No one gave the Rockets a shot of of winning a game in this series, so they are already ahead of predictions. The fact Houston have a chance to even the series tomorrow may seem outrageous. Then again, this Rockets team has under performed all season and continually surprised everyone – perhaps their intentions are to save their greatest surprise for the playoffs!
That's it for today's Daily Rocket Science, stick with Space City Scoop throughout the day for articles, news and opinions on all things Houston Rockets.
Next: Houston Rockets Season End Round Table Part 1
Next: Houston Rockets Season End Round Table Part 2
Next: Houston Rockets Season End Round Table Part 3
Space City Scoop is always looking to add new talent to our writing team. Currently we're looking for individuals with a specialized focus. The first area of focus is perfect for someone who is constantly surfing the web for breaking news on injuries, trades, insider info etc. This individual would select the top news items and provide timely quick hits to keep SCS readers in the loop.
The other area of focus is someone who possesses a strong social media background who likes to interact with Clutch City Fans. You'll promote SCS team content on facebook and twitter while also making sure to promote the best content coming from H-Town fans. If you have this capability and are interested check out this link and fill out an application.