Vegas NBA Summer League Playoff Segment of Tournament: Houston Rockets 17 seed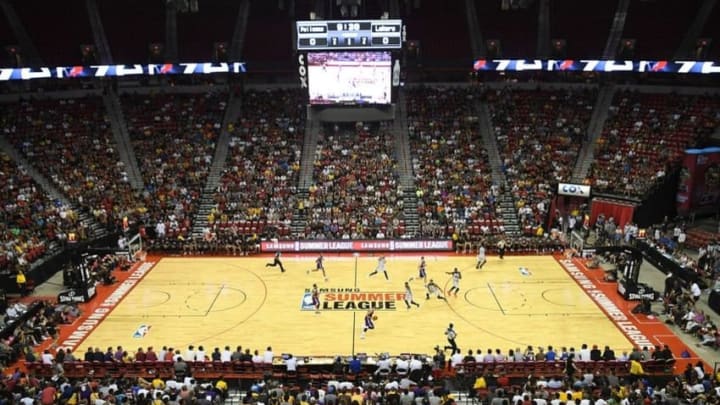 Jul 8, 2016; Las Vegas, NV, USA; The Los Angeles Lakers and New Orleans Pelicans play an NBA Summer League game at Thomas & Mack Center. Mandatory Credit: Stephen R. Sylvanie-USA TODAY Sports /
The first round of Vegas NBA Summer League is completed with the Houston Rockets 1-2 record seeding them 17th.
What this means is the Houston Rockets have to play in the first round of the Vegas NBA Summer League and will face 6th seeded Golden State Warriors.  The game tips off at 10:30 in the night cap.
The winner of this match will go on to face the top seeded Toronto Raptors next.
Seeding was determined by win-loss record with tie-breaks determined by with ties broken based on points at quarter end and point differential.  The Raptors who trounced the Kings 88-47 had a clear edge to take the top spot. The 47 points matched a record for the least points scored.
Top Seeds
The 7 teams joining the Raptors who all get a direct by into the second round are, the Bulls, Lakers, Nuggets, Suns, Nets, Wizards and Grizzlies:
2 seed: Chicago Bulls
3 seed: Los Angeles Lakers
4 seed: Denver Nuggets
5 seed: Phoenix Suns
6 seed: Brooklyn Nets
7 seed: Washington Wizards
8 seed: Memphis Grizzlies
Tournament bracket for Vegas playoff rounds. #Rockets play Golden State in first round #NBASummerLeague pic.twitter.com/asrsYBUTDg
— Space City Scoop (@SpaceCity_Scoop) July 13, 2016
Elimination Playoff Round 1
More from Space City Scoop
Each of the above teams will await the winners of the first round. As mentioned the winner of the Rockets vs Warriors game will play the Raptors.
Milwaukee Bucks (18) vs. Dallas Mavericks (15) play today at 10:00 with winner playing the Chicago Bulls (2).
Boston Celtics (19) vs. Cleveland Cavaliers (14) play today at 8:00 with winner playing the Lakers (3).
Portland Trail Blazers (20) vs. Utah Jazz (13) play at 8:30 with winner playing the Denver Nuggets (4).
New Orleans Pelicans (21) vs. Miami Heat (12) play today at 4:30  with winner facing the Phoenix Suns (5).
Philadelphia 76ers (22) vs. D-League  Select (11) play today at 6:30 with winner facing the Brooklyn Nets (6).
Winner of the Sacramento Kings (23) vs. Atlanta Hawks (10) play today at 4:00 with winner facing  the Wizards (7).
Winner of the Minnesota Timberwolves (24) vs.San Antonio Spurs  (9) who play today at 6:00 will face the Grizzlies (8).
Remaining Playoff Rounds
Should the Rockets win tonight they'll join the other winners tipping off against the top 8 seeds tomorrow (July 14th).
The quarter finals, semis and finals run on 3 consecutive days:  July 16th, 17th and 18th. Should the Rockets prevail they'll be playing 4 games in 5 days.
More details on how the playoff rounds shake out can be found on NBA.com
SCS will update as free agency news develops. For now if you're a fan who wants to follow free agency closely consider checking out my Free Agency Profiles for all 30 teams:
Next: Free Agency Profiles for all 30 Teams
Along with articles covering the draft:
Next: Reviewing the top 30 Draft Picks
Space City Scoop is always looking to add new talent to our writing team. Currently we're looking for individuals with a specialized focus. The first area of focus is perfect for someone who is constantly surfing the web for breaking news on injuries, trades, insider info etc. This individual would select the top news items and provide timely quick hits to keep SCS readers in the loop.
The other area of focus is someone who possesses a strong social media background who likes to interact with Clutch City Fans. You'll promote SCS team content on facebook and twitter while also making sure to promote the best content coming from H-Town fans. If you have this capability and are interested then check out this link and fill out an application.