Free Agency Recap for the Houston Rockets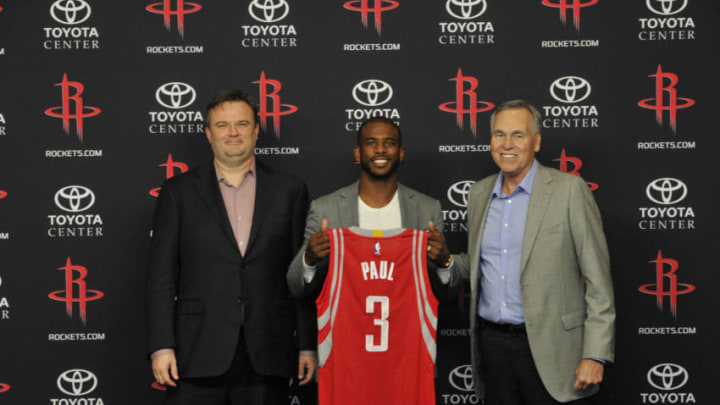 Photo by Bill Baptist/NBAE via Getty Images /
As expected, the Houston Rockets have had quite a busy summer thus far.
The Rockets made a fairly decent splash in free agency this year. The team was able to acquire talent on both ends of the court, including a superstar. With free agency coming to a close, at least for the Rockets, fairly soon, let's take a look back at what Daryl Morey was able to accomplish in late-June through July.
The Big One
Daryl Morey pulled off one of the biggest moves of the offseason a few days before free agency started: trading for Chris Paul. While Paul was set to opt out of his player option and become a free agent, Morey was able to convince him to opt in and request a trade to the Rockets. The monster deal sent quite a few players to Los Angeles, including Patrick Beverley, Sam Dekker, Lou Williams and Montrezl Harrell.
Acquiring another superstar to pair with James Harden was the move of the summer for the Rockets, and it will be interesting to see Paul and the Beard work together.
A Few Re-Signings
The Houston Rockets were able to bring back a few players from last year's squad.
Backup center Nene Hilario re-signed for 3 years and around $11 million. He was one of the steals of free agency with the production he brings off the bench. Having him back on the team will do wonders for the Rockets next season.
Troy Williams also re-signed with the team for a partially guaranteed 3-year deal. While he is still raw, Williams has some serious potential and could be a great player for the Rockets at some point in the future. Will he get many minutes this season? We will have to wait and see in the middle of October.
Bobby "Buckets" Brown also re-signed with the squad. He has the potential to get some backup point guard minutes, maybe.
A Familiar Face
The Rockets also signed an old friend in Tarik Black. After getting his start in Houston, he was traded to the Lakers and was decent there. Now, he is returning to the place that gave him a chance after he stood out in the 2014 Summer League and preseason. Houston signed Black to a 1-year deal to be another backup center that can have a similar role to Montrezl Harrel last season.
New Additions
There are quite a few new additions to the Rockets that were signed this summer. Let's start with the main 2:
P.J. Tucker joins the team as a defensive beast and a great 3-point shooter. He will be able to stretch the floor and give Trevor Ariza a breather on the defensive end. Another defensive-minded player the Rockets signed is Luc Mbah a Moute. He will be able to also give Ariza some minutes off and will play lock-down defense. Should his shot be as good as last season, he will find himself with some serious playing time.
Some other additions include the signing of draft pick Zhou Qi to a multi-year deal at the minimum and Cameron Oliver also signed a multi-year contract. These young players will likely see themselves in Rio Grande Valley of the G-League for most of the season.
More from Space City Scoop
The Beard is Here to Stay
James Harden signed a massive extension to stay in Houston for quite some time. The deal will run through 2022-2023 and will pay the Beard an astounding $228 million, the biggest contract in NBA history. Harden has stated his interest in staying in Houston forever, and this deal proves just that.
Overall, the Rockets got better on both ends of the court this free agency. As the team works to make a deal for another superstar, they at least know that the team already built is a solid competitor.
For more information about the Rockets, be sure to follow us on Twitter and like us on Facebook!