James Harden Will Excel Off the Ball for the Houston Rockets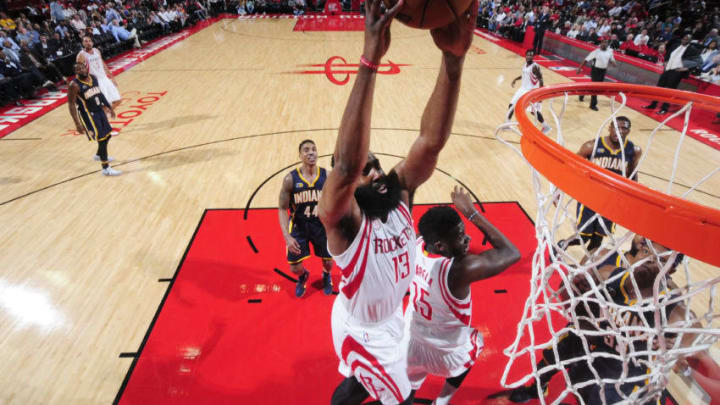 HOUSTON, TX - FEBRUARY 27: James Harden /
This year, James Harden will have to go back to his roots and play off the ball some.
With the addition of Chris Paul, James Harden will be in an interesting place next season. The two will have to take turns playing off the ball, something that both can do pretty well.
Playing off the ball is how Harden originally played in the NBA, as he is a natural shooting guard. However, in recent years the offense has run through him and he has been more of a point guard in Houston. It was made official last year when Mike D'Antoni named him the starting point guard.
Will Harden be able to play off the ball again with CP3 in tow? Let's take a look at why he will excel at the 2-guard:
James Harden Will Still Be Dominant
Let's throw it back for a second. Watch this quick video on James Harden's top 5 plays from the 2011-2012 season, in particular numbers 5 and 3.
Notice anything? Harden is playing well off the ball and even threw down some nasty dunks in his younger age. These days he may lay some of those up, though. Still, he has a natural ability to play off-ball and cut at opportune times.
One more throwback for you guys:
This time, in Houston, James Harden has Jeremy Lin and Patrick Beverley running the point. This game, in particular, has some good instances of the off-ball ability of Harden. Lin or Beverley will hit James at around the free throw line and he has the ability to find his own shot or even set up a post player.
Just because Harden is the shooting guard about half the time doesn't mean he won't be able to make plenty of plays for the Rockets. He will still be catching the ball at the top of the key or at the free throw line and driving to the paint. If anything, Harden should be even more efficient next season with the help of Chris Paul.
One last play from the JHtown Weekend game:
https://twitter.com/HoustonRockets/status/899379679181885441
With Harden playing off the ball, he catches a pass from CP3, drives to the paint and lobs it to Clint Capela. Expect quite a bit of that next season. While there is only so much you can take out of an exhibition match, it still is exciting to think about.
Do not worry about the fit of James Harden and Chris Paul next season, Rockets fans. They want to make it work and both have the ability to play off the ball.
For more information about the Rockets, be sure to follow us on Twitter and like us on Facebook!