Houston Rockets: Daryl Morey wants to keep core intact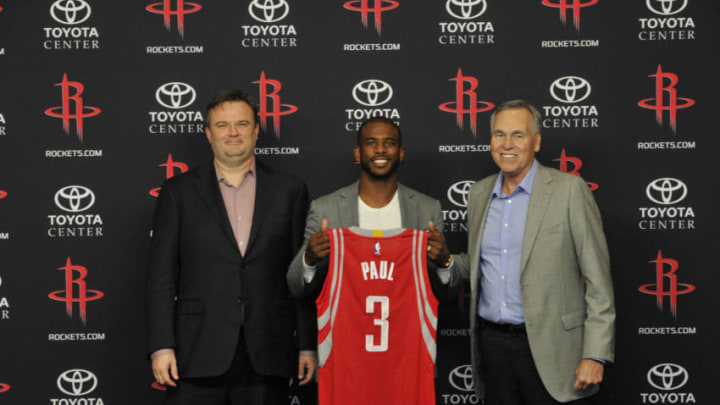 Photo by Bill Baptist/NBAE via Getty Images /
Daryl Morey and Mike D'Antoni of the Houston Rockets want to re-sign as many of the team's core free agents as possible this summer.
The Houston Rockets are just a few days into the offseason. The management and coaching staff have had little time think about the 2017-18 season, but it's already time to move on.
Free agency is right around the corner, and Houston will be exploring all of their options. LeBron James and Paul George could be on the move in July, and either player would presumably make the Rockets the best team in the NBA.
Houston's first priority this offseason will be re-signing Chris Paul and Clint Capela. In addition, Trevor Ariza, Luc Mbah a Moute, Gerald Green, Tarik Black and Joe Johnson are all free agents.
Retaining all of those players will be very costly for Houston's ownership. Daryl Morey said that Tilman Fertitta is willing to pay any price for a ring, via Jonathan Feigen of the Houston Chronicle.
"The better you get, the more expensive the team gets, the more cap exceptions go away that help you improve the team. We'll just have to do our normal job, be creative and do whatever is possible to try to get better. We have an expensive team. Tilman has for sure signed off for that."
Morey added that he wants to re-sign most the team's free agents, via Jonathan Feigen.
"Generally, we want to bring our free agents back."
Not including the listed free agents, the Rockets already have $84 million under contract. According to the Rockets Wire, the Phoenix Suns could offer Clint Capela, who is a restricted free agent, a max deal.
The Rockets will likely match any offers that Capela receives from other teams. If the Rockets pay Capela $15 to $20 million a year and sign Paul to a 5-year, $200 million max deal, they'll be in luxury tax territory in a hurry.
More from Space City Scoop
The Rockets may not retain every single free agent. They probably should let Tarik Black go, who didn't play very many minutes in the postseason. Mike D'Antoni likes to play small with P.J. Tucker acting as a center, so Houston doesn't need Nene, Chinanu Onuaku, Zhou Qi and Tarik Black as backup centers.
The Rockets should probably part ties with Joe Johnson too. Father time has caught up to Iso Joe, and he didn't play any meaningful minutes in the 2018 postseason. When the 2019 playoffs roll around, Johnson will be another year older.
A good argument for keeping Johnson is that he is a good locker room guy. That's true, but Chris Paul is also one of the most well-respected leaders in the NBA. Nene is also a great locker room guy and Trevor Ariza won his first championship nearly a decade ago. There are plenty of leaders and experienced players on this team.
Gerald Green was an excellent mid-season pick up. He has a relatively high ceiling, can space the floor, and most importantly, had a very favorable contract. The Rockets should look high and low for another diamond in the rough. Not only is it beneficial for the salary cap, but good players with great contracts are also valuable on the trade market.
Next: Houston Rockets: Options at guard for the 2018 NBA Draft
Like most teams, Houston doesn't have a ton of cap room to play with. Signing a big name free agent will be even more difficult. We've seen Daryl Morey work his magic before, and he'll have to pull out all of his tricks to improve this team for next season.